Harmony Villa
Layou Road Lancashire EState
Tel: +1767 2258393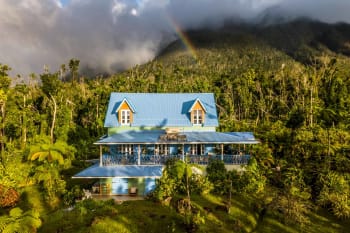 On the western foothills of Dominica's World Heritage Site's Morne Trois Pitons is Harmony Villa, a private 3 bedroom Vacation Villa on 2 acres, only minutes from many popular nature attractions. We offer a creative home-stay environment in the Heart of Dominica's 305 sq. miles placing you close to attractions like; Salton Falls only 10 minutes' walk, Emerald Pool, one of Dominica's most popular waterfalls and Layou Hot Springs and River Bathing both just 15 minutes' drive in either direction, Trois Pitons Hiking Trail 5 minutes' walk away, Syndicate Nature Trails for exceptional Bird watching, 25 minutes away & West Coast and East Coast beaches only 20 minutes' drive away. Not to mention river bathing within walking distance. If you are a family, small group, on honeymoon or a small Wedding party, you can create special memories here. Maybe an artist seeking to reignite your creativity or an adventurer needing the ideal central base to explore Dominica? Harmony Villa is ideal.
Facilities
Daily Housekeeping
Dinner by reservation
Breakfast by reservation
Grocery Provisioning on request (charge)
Bar (nearby)
Café / Restaurant (nearby)
Garden For Residents' Use
Hiking
Luggage Storage
Packed Lunch By Arrangement
Shop (nearby)
Wi-Fi
BBQ Facilities
Policies
Check In: Between 13:00 and 16:30
Check Out: Between 10:00 and 11:30
Wi-fi: There is no wireless internet available.
Smoking: There is no smoking permitted anywhere within the property.
Parking: Parking for all guests is available on site and is free of charge.


Children: Children aged 7 or over are welcome.
Pets: Pets are not allowed.
Groups: All groups are accepted.
Average
4.6
out of 5
6 reviews
100% recommend
Reviews
5th July 2019:

Harmony Villa is a beautiful property. Claudia was on site and she was so helpful and kind. We stayed in the master bedroom which was very comfortable and spacious. The property itself has been renovated, it's secluded and very quiet, but clean and a home away from home. Highly recommended!
Tips:
We truly enjoyed the emerald pool, trafalgar falls, off the beaten path beaches. Beautiful hiking and lush rain forests. The people are wonderful!
Would Recommend: Yes
6th May 2019:

Would Recommend: Yes
18th August 2017:

Would Recommend: Yes
7th August 2017:

Harmony Villa is a beautiful, cosy place to stay, located in a very peaceful part of the jungle of Dominica, surrounded by sounds of birds (eg the jacko-parrot!) and other animals. A nice dinner and breakfast is offered. As a visitor, you will feel very welcomed! Highly recommended!
Tips:
Harmony Villa is located at the end of Segment 4 and the beginning of Segment 5 of the Waitukubuli National Trail. It is also close to the trail to the Morne Trois Pitons and the trail to the Salton Falls.
Would Recommend: Yes
Owner Response:
Thank you so much for taking the time to leave such a beautiful review. it is very much appreciated and we are so happy that you had a great time with us. Hope to host you again sometime in the future. Regards, Carla
13th May 2017:

Some importants informations are missing at the reservation. Meals and car rental. Claudia is marvellous. A very good person
Would Recommend: Yes
6th April 2017:

Carla has a real gem of a Caribbean dream home. Architecturally, artistically and aesthetically it was perfect. Claudia the housekeeper, and Calin the caretaker were friendly and helpful. The surroundings were lush, and the vibe relaxing.
Tips:
Book a massage with Dafrica on the verandah of the villa and have your first dinner there too. Visit the Kalinago village, find Batibou beach (stunning) and eat at Islet View restaurant. Hike to the many falls.
Would Recommend: Yes
Owner Response:
Oh wow, I will be sure to let Claudia and Kalin know how much you appreciated them. Thanks so much for taking the time to leave a review for us. Much appreciated. Warm regards, Carla
.