Chez Ophelia Cottages
Copt Hall
Tel: +1767 6168000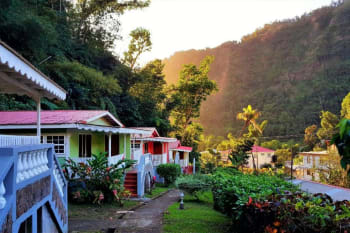 Chez Ophelia Chez Ophelia has five(5) cottages built in traditional Dominican style, each having two(2) apartments; a total of ten(10) simply equipped apartments on the premises. Each apartment has a comfortable room with a double bed, a kitchenette to meet your needs(4 burner gas stove top ,Microwave, refrigerator, dishes, cutlery, pots and pans), a welcoming living/dining area with a comfortable sofa bed; and your own private veranda. You are in touch wherever you are in Dominica and if you travel with your laptop we have wireless connectivity. Of course, music is available for purchase!! Our apartments are designed to hold three persons comfortably, but if your family or group is larger than three, then you can easily have a complete cottage since the apartments share a connecting door. Discounts are available for long stays. Tours and hikes to scenic spots can be arranged.
Facilities
Breakfast Room
Early Breakfast By Arrangement
Evening Meal By Arrangement
Fax/Email Facilities
Internet Access
No TV
Garden For Residents' Use
Luggage Storage
Shuttle to Airport
Shuttle to City Centre
Policies
Check In: Between 15:00 and 20:00
Check Out: Between 11:30 and 12:00
Wi-fi: Wireless internet is available and is free of charge.
Smoking: There is no smoking permitted anywhere within the property.
Parking: Parking for all guests is available on site and is free of charge.


Children: Children of all ages are welcome.
Pets: Pets are not allowed.
Groups: All groups are accepted.
Average
4.3
out of 5
2 reviews
100% recommend
Reviews
25th February 2020:

Would Recommend: Yes
12th January 2020:

Great place to stay at if you love the overwhelming nature of Dominica. Perfect as a starting point for various hikes or excursions by car to visit the Trafalgar or Middleham falls, the sulphus springs of Wooden Waven, the freshwater and Boeri lake, the Pitou gorge and others. It is a very quiet and remote place next to the miracoulous Dominican mountain jungle. Very gentle and helpful owner's couple: Ophelia who runs the cottages is a famous singer of traditional Carrabian music and a national celebrity on Dominique and famous on other islands around. Her husband Mark is taking care of everything and helps with advice and action if required. He even drove me down to Roseau for a first emergency shopping after I arrived by taxi with nothing to eat od drink at all.
Tips:
Chez Ophelia provides a decent breakfast (omelets, fruits, brad and butter and jam). Recomended! Besides this: You must know that there are neither restaurants or bars noe any shops around. The next ones are at Roseau or up in Trafalgar - both 10 min by car or 1 hour by foot. So you definitely need to have a rental car if you stay here for a while and get enough provisions plus water, beer, else to do your own cooking.
Would Recommend: Yes
.